On Saturday evening 22nd March at the Warehouse Café in Digbeth Birmingham members of mappa mercia received the annual Document Freedom Day Award 2014 on behalf of the OpenStreetMap Foundation from the Free Software Foundation Europe, whose members travelled down from Manchester for the event.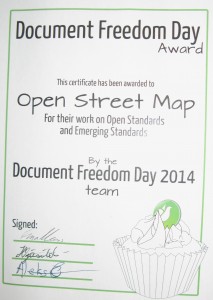 Document Freedom Day is organised every year by the Free Software Foundation on the last Wednesday of March " for celebrating and raising awareness of Open Standards and formats . On this day people who believe in fair access to communications technology teach, perform, and demonstrate."  So watch out for events all round the world this Wednesday 26th March.
Last year's award went to  Die Tageszeitung  for using  five Open Standards in publishing  their daily newspaper.
Receiving the award Brian Prangle long time OSM contributor and local mappa mercia community co-ordinator said: "It's always great to have your work recognised, so thank you, on behalf of all the hundreds of thousands of contributors to OpenStreetMap, to FSFE for their award. We're thrilled that you see OpenStreetMap as making such an effort towards open standards and it's especially pleasing that you position us as an 'emerging standard'"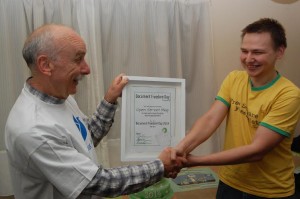 A celebration is nothing without a cake, so apart from the mandatory certificate which we can share with the whole of OSM, FSFE generously provided a superb cake which we ate so unfortunately we can't share it! But rest assured we worked hard on behalf of OSM and devoured as much as we could before heading off to a nearby pub.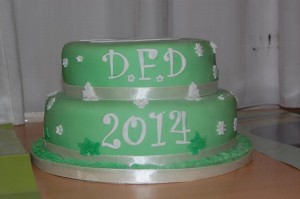 "This was a wonderful opportunity to learn about the achievements and problems faced by a sister movement" said Anna Morris from the Document Freedom Day campaign. "We found that we have many common goals and ample opportunity to share skills and resources."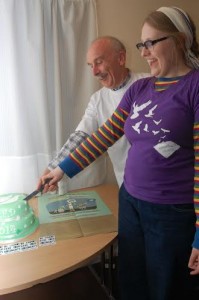 We had such a good time with a lovely bunch of people from FSFE and as Anna said we share many goals and ideals so we are planning to keep the contact and collaboration going to see how we can assist each other.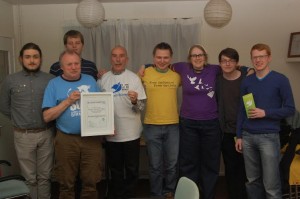 Images   Andy Mabbett,
CC-by-SA 3.0