Sometimes in order to build something better you have to start by taking something old down. That's exactly what happened in Coventry this weekend. And as always OpenStreetMap was the first to reflect these changes.
Coventry Friargate
The Friargate project is a major redevelopment project in Coventry, right next to the train station. The development encompasses 37 acres and will comprise a vibrant mix of commercial, civic, leisure, residential and hotel space. Currently the site, which will also be home to Coventry City Council's new council office, is separated from the rest of the city centre by the ring road. Although some good work was done in time for the 2012 Olympics to help connect the Friargate site and train station to the city centre, there was certainly scope for a lot more. That something more, is a new "bridge deck" spanning the ring road:
"The bridge deck is a key part of the Friargate development at the railway station and the council's own move to a new office building on the site. The bridge deck will better connect Friargate to the city centre by removing the raised roundabout and building a 100 metre wide connection across the ring road, creating a public boulevard linking the railway station through Greyfriars Green directly into Bull Yard."
As the quote above mentions, stage 1 of the Friargate project was the removal of the existing (road traffic only) raised roundabout. The following image is from Coventry City Councils flickr account:
 Bridge munchers at work on Coventry's ring road junction 6.
Why I contribute to OpenStreetMap
OpenStreetMap is a free, editable map of the world. It is often described as the wikipedia of maps, but its much more than just a map. All of the underlying map data is made available for anyone to use. You can create your own map style, create mountain bike routes, and many more things that are possible with geographic data. You're only limited by what your own imagination hasn't thought of yet!
This weekend, whilst the bridge munchers set about tearing the roundabout bridge down, I set about making the change in OpenStreetMap. Of course I had the easy job – it took only a couple of minutes and didn't create any rubble or dust!
Using our relaunched mappa-mercia twitter I posted a quick tweet – one that was later retweeted by Coventry City Council: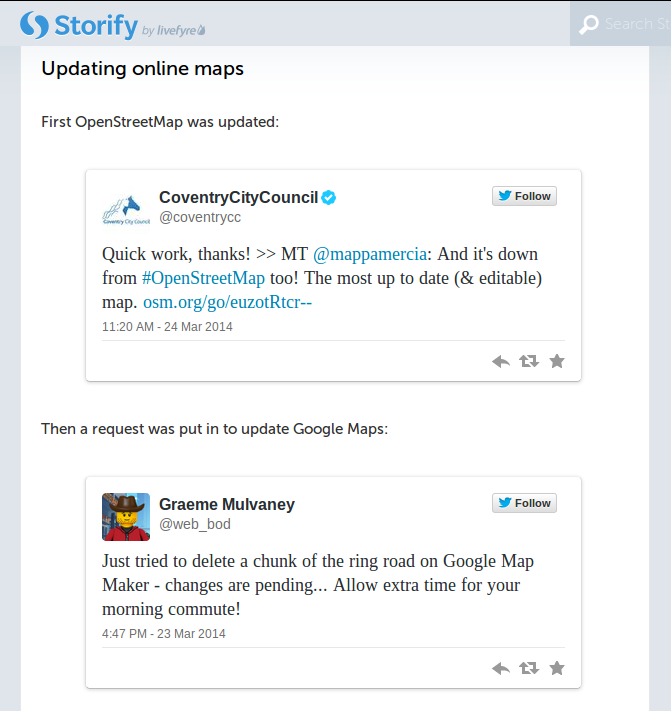 The above screenshot is taken from this Storify page created by the city council. It gives a great record of the events in the run up to, and during the bridge removal. I think it nicely sums up the benefit of OpenStreetMap!! Whilst Google Map's change is still "pending", the OpenStreetMap change is already live, both on our own maps, and those that use OpenStreetMap data (such as this FourSquare map).
Jump in to editing OpenStreetMap here and you can help too.