It's been a month since we started our fifth quarterly project, so let's look at where the engaged OpenStreetMap contributors are editing. Read on to find out where the mapping hot-spots are and where we have missing map locations.
Each quarter year we pick a different task to work on. The fifth is all about schools and has (by a long way) been our most successful. Let's therefore use it to get an idea of where the engaged OpenStreetMap community is. By "engaged" I mean, where are the UK OpenStreetMappers who follow the community channels – such as the talk-gb mailing list and twitter accounts like ours – and join in with group mapping efforts.
Lets look at the results. Data comes from the school edit tracker.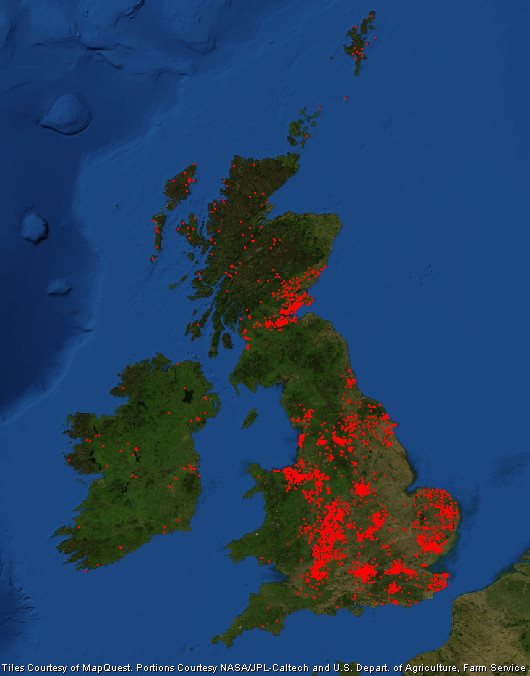 As you'd expect most edits are focused on large towns and cities. Here we have a larger population from which to attract engaged mappers, and of course there are more schools to map without having to travel so far. Large cities don't always equate to lots of mappers though. Manchester and Liverpool are lagging behind; a trait we also saw during our first quarterly project (note: edits in the OL postcode region are my remote edits).
The cities that are most engaged also tend to be those with OpenStreetMap communities that meet regularly.
Perhaps big urban areas seem to daunting to an individual mapper! What we see is that the cities and  larger towns that are most engaged also tend to be those with OpenStreetMap communities that meet in person regularly. These include Birmingham (this group), London, Nottingham and the central belt of Scotland. Perhaps the active mappers in Blackpool and Bradford could see if there is any interest in setting up a local community focused along the Mersey!
Other areas that are doing well are Cheshire, East Anglia, the South East and along the River Severn. Within the more rural areas Yorkshire is doing well (mapping is across the county not just in the larger urban areas) and as previously noted the Outer Hebrides and Shetland Islands.
Cardiff is another example of a city that is missing mappers. As are most of Wales and the South West, much of which is rural. They are joined by the region sandwiched between the Lake District and Edinburgh.
Finally, Ireland's mappers are focused on mapping Townlands, but nevertheless they've found time to map a few schools in both Northern Ireland and the Republic of Ireland.