When we did the highly successful quarterly project to map schools we tracked the progress using a script that collated data on a daily basis from TagInfo UK. This enables us to see how we are getting on, both in terms of total features mapped, but also the split between nodes, ways and relations. We can then produce charts like the one for schools shown below.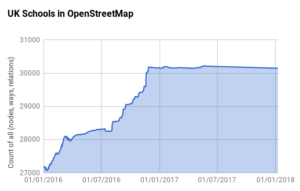 This script was also used on the following quarterly projects up to the end of Q1 2017. Unfortunately I failed to set it up for the following quarterly projects, and worse still, failed to notice that the script stopped running in May 2017. It looks like the reason behind this was a change in the server that we are hosted on causing a 32bit vs 64bit error – but I'm no expert!
The important thing is that I have it up and running again and have added tracking for petrol stations. You can view the data by following this link.