It wasn't just Hadrian's Wall that I mapped in OpenStreetMap as part of our third UK quarterly project – "all things tourism".  Closer to home I visited and mapped the wonderful Hill Close Gardens in Warwick. The gardens are a "very rare example of detached Victorian leisure gardens which were found on the outskirts of many towns in Victorian times". They comprise 16 individual plots, numerous summer houses and the larger visitor centre building. It was therefore no small task to add this to OpenStreetMap – in fact I still have a couple of plots left to map as I ran out of time on the day I visited the gardens!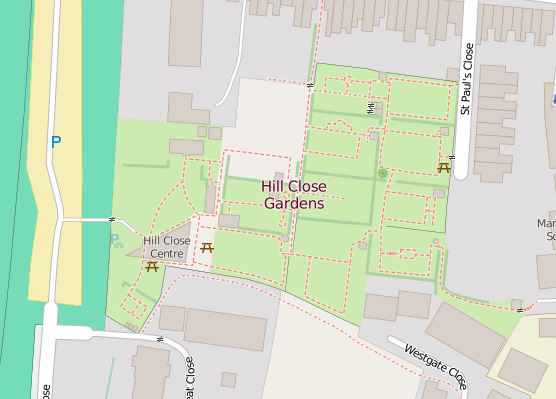 In addition to my visit to the gardens (and the numerous photos I took), I made use of the Warwickshire County Council aerial imagery to help add in all the detail and paths. As a reminder to other OpenStreetMappers this aerial imagery is free to use to assist with your mapping efforts. It was fascinating to see how the area had changed over the years thanks to historical maps – this time from Warwickshire County Council's mapping portal, although I'm sure there are some great maps on the National Library of Scotland's site too.
Next steps are to finish off the last two plots in the north section of the garden. The gardens also provide lots of information about the history of each plot. It may be good to add this to the gardens' entry on wikipedia. And of course, I need to add the wikipedia article details to OpenStreetMap so that we continue to build links between these two crowd-sourced projects.
View the map here.