Our third quarterly project for UK OpenStreetMappers saw us focus on all things tourism. A walking holiday along Hadrian's Wall gave me a great opportunity to map one of the UK's oldest, and definitely longest, tourist spots. Of course it was in no way a tourist site when it was first built in AD122, but just as maps have changed function from a military tool to an aid for tourists, so has Hadrian's Wall.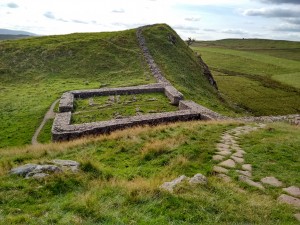 Along with other borders of the Roman Empire, Hadrian's Wall is a World Heritage Site. Given this, and the prominence of site on the landscape, I was surprised to find that it wasn't well mapped. The fortification comprises, from north to south, a ditch/cliff edge, the wall, the old military road, and finally another series of ditches know as the Vallum (to keep ordinary folk in the south out of the military zone). In places the Vallum had been mapped as the wall and big swaths of the wall were missing from OpenStreetMap.
Using my collection of photos, GPS traces, and the wonderful historical maps provided by the National Library of Scotland, it didn't take long to improve the representation of the wall within OpenStreetMap. Now the wall (or wall-route where little of the original wall remains) is correctly mapped and gathered in a relation. The mapping of the vallum is also much improved.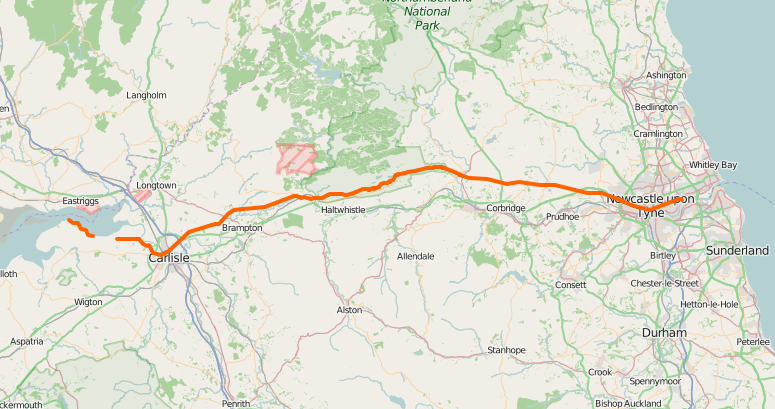 There is however still plenty to do, including mapping other parts of the world heritage site such as the milecastles and the turrets that were built along the wall. A full record of what is included as part of the world heritage site is available on the UNESCO website, with mapped features added to an parent relation in OpenStreetMap.
Happy mapping!