TagInfo is a website that allows you to explore tag usage statistics in OpenStreetMap. That is, unlike the wiki documentation which describes how tags should be used, TagInfo reports on how tags are actually being used in OpenStreetMap.
I've previously written a bit about TagInfo in "Exploring OpenStreetMap Data" and I'm pleased to see that TagInfo continues to be improved with new features. One of these features was suggested by our own Andy Mabbett – lets take a look.
Comparing Keys and Tags
It is now possible to compare tags side by side on a single page. A new menu on tag (and key) pages allows you to add those tags to a comparison list and then compare them side by side. This new addition is great when when trying to decide which of several similar tags is best to use based on popularity/existing use.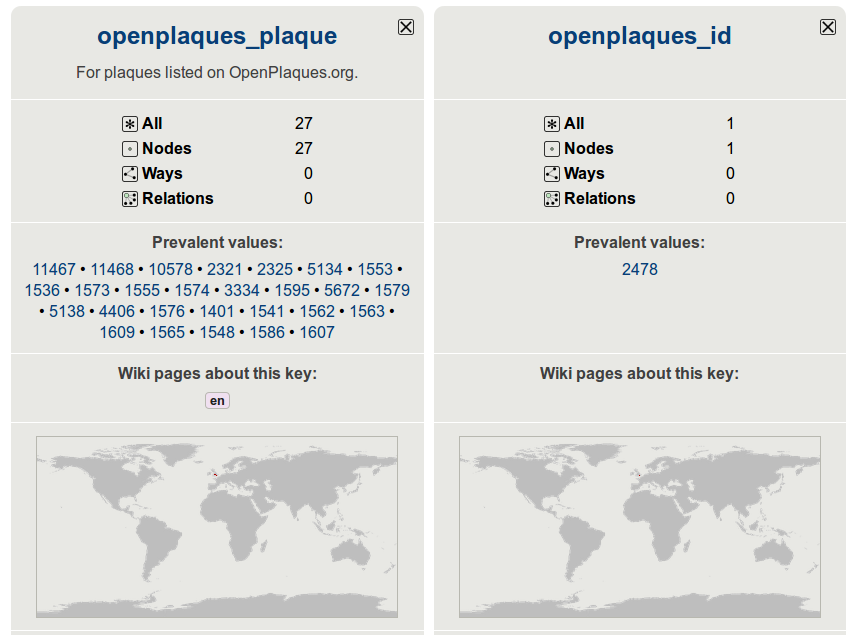 Well done Andy for proposing this new feature, and a big thank you to Jochen Topf for implementing it so quickly.
Other new features
The tag comparison is not the only new update to TagInfo. Today the following updates were also added:
Maps for Tags
Link to Level0 Editor
Improved Overpass Turbo Integration
In addition to the above improvements, there are also changes to the API and new translations (you can help with translating TagInfo here).
TagInfo is a great tool to help OpenStreetMappers, so I'd personally like to thank Jochen for his work on this. TagInfo is now a core feature of OpenStreetMap (now being hosted on OpenStreetMap Foundation servers). This is a great accolade for TagInfo as it signifies that the website is at the heart of the OpenStreetMap landscape and will continue to be supported going forward.