How do you map steps that are transverse like these? This is a view towards Birmingham Central Library from Victoria Square and is a route traversed by thousands of people a day.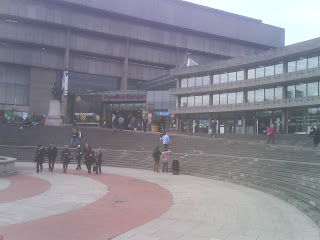 Currently highway=steps is for a set of steps along a linear way which doesn't address this scenario which must occur tens of thousands of times across the planet.
There is a tagging proposal which as been around for a couple of years which seems to be going nowhere. I've read it and it's far too complex for  me and I would guess most mappers.
Solving this problem is important a) for accurate mapping and  b) for disabled/visually impaired routing.
Perhaps a simple tagging scheme of highway=steps steps=transverse with the left hand side of the way being the top with a rendering of the current steps render with little arrows pointing in the downwards direction across the way?
While we're at it perhaps the existing linear steps render could be improved with an arrow indicating down? But maybe that would be confusing with the one way render for streets/roads.