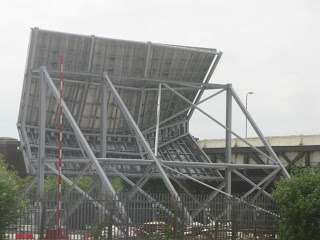 This object has been a puzzle for a couple of years. It's been constructed on land alongside an old railway siding adjacent to Small Heath Bridge Birmingham B11. This picture was taken from a train on the way into Birmingham Moor Street.
It's pointing vaguely westwards, i.e which is the direction the camera is pointing in. The reverse side is a  highly polished surface (stainless steel?). It looks like it might be a solar collector of some kind but there are  no power cables or fluid/gas pipes that I can see so it remains a mystery.
Any offers of what it might be?