After some mapping activity in the area of Smethwick which is to the North West  of Birmingham we ended up in the excellent little pub The Black Eagle on the aptly named Factory Road. The pub is like a country pub complete with garden and serves great food and real ale, including the famed Black Country brew Batham's Bitter. It was so good we're meeting there next month (nearest metro stop is Soho Benson Road)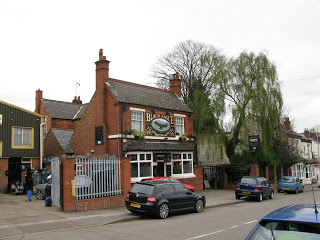 We discussed the impact of losing data from people who have not accepted the new CTs; how to recruit new mappers; how to deal with rogue mappers; the possibility arranging some skills transfers sessions and creating a wiki log of all the upcoming re-developments in the region to remind ourselves of future mapping surveys.
The major landmark in the pre-meeting survey of the area was the Soho Foundry created by Matthew Boutlon and James Watt in 1795 which still fronts a large industrial site now operated by Avery Weightronix. The low mark of the evening was the sadly dilapidated Black Patch Park groaning under the weight of fly tippers rubbish.