Here in England we are lucky to be surrounded by many historic buildings , and indeed our heritage is a big attraction for local and overseas tourists alike. To ensure that the most significant of our historic buildings are protected for future generations to enjoy, a building may designated as a "Listed Building". Once on this register a building has statutory protection and  may not be demolished, extended, or altered without special permission from the local planning authority. The register, which is maintained by English Heritage, is published online and we've also produced our own heritage map for the West Midlands using this data.
It's very expensive to own and maintain a listed building, so unfortunately a  significant proportion of them fall into serious states of decay. This is the Old Steam Mill in Wolverhampton not far from the station: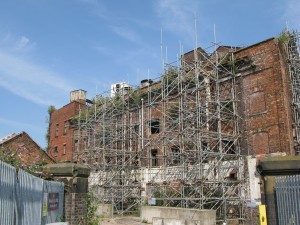 Many buildings and structures do not make it through the rigorous selection procedure to become listed, but still have some architectural or historical interest, so local authorities maintain "local lists".  Locally-listed buildings do not have statutory protection so developers can do what they like with them, often demolishing them; but local planners will use all their powers of persuasion to preserve them. For example, Coventry's local list can be found here.
"It has six wide 'zebra' stripes painted in white onto the Tarmac road surface, flanked by two lines of dashed marks either side…"
"Buildings" is perhaps a poor description, for the register can contain any historic structure. In the Midlands for example we have listed bridges, milestones, canal locks, telephone boxes, sewer ventilation pipes, tunnel entrances, fountains, bandstands, statues and monuments. Meanwhile in north London the Abbey Road zebra crossing  – made famous after appearing on a Beatles album cover – was added to the register of listed buildings and structure in late 2010.
There are also some very interesting structures to be found in local lists. Wolverhampton City Council has locally listed  "Margery Cabinets": these are electricity distribution cabinets designed by T.A.G Margery, the then Borough Electrical Engineer about 1930.
Today we're asking you – where is the Midlands most unusual listed building structure? We're not limiting it to just Birmingham, or just the West Midlands; feel free to explore the outer edges of the Midlands. If you think it counts, we want to hear about it. Drop us a message using the comment section below, or contact us @mappamercia on twitter.  A picture would help enormously.