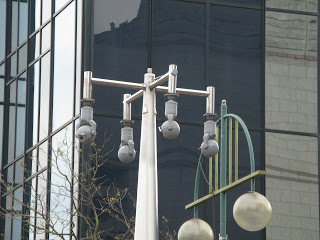 Can anyone beat this for density of surveillance cameras?  I know we live in a security-conscious world but I think this is a bit excessive. Spotted on Broad Street in Birmingham between the Hyatt Hotel and Symphony Hall. Or maybe there is a technical reason for this configuration? They seem to me, as a non-expert, on cursory examination to be capable of  horizontal 360 degree rotation.
Has anyone noticed the growth of ANPR (Automatic Number Plate Recognition) cameras at the exit of many motorway service stations?
Whilst on the subject of ANPR cameras, there was a major national news story last year about a blanket installation of ANPR cameras in the mainly Muslim areas of Birmingham, financed by a counter-terrorism budget and erected without local consultation. After a short and controversial political battle they were removed.
Now they seem to be sprouting up on many trunk roads and major routes into and out of Birmingham, so that the entire city is covered. Has anyone else noticed them? Are they sprouting up in other cities? I think there has long been a ring of such cameras around the City of London (the financial district)