"More Canals than Venice" is something you'll hear often in Birmingham or from Brummies anywhere, to describe the city. It's mostly a defensive mechanism, I believe, because Birmingham does not enjoy the best of reputations in the nation's affections and is  the butt of many a joke. It's repeated incessantly,  completely oblivious of perhaps better claims from cities like St Petersburg or Amsterdam, which have the added advantage of being much higher in the tourist destination stakes than Birmingham. (Though curiously one of the few boom sectors in Birmingham is hotel construction, with increasing numbers of visitors filling the rooms once they're completed.)
Perhaps those with the database skills could analyse the OSM data and settle the argument once and for all – which city does have the most canals?
However Birmingham does have one unique claim to fame: a canal roundabout at the junction of the Birmingham and Fazeley Canal and the Birmingham Canal Navigations. And yes, it is tagged with junction=roundabout, although I don't know whether the direction is correct as I'm not a boat navigator and don't understand the "rules of the road" for boats. There are certainly no oneway signs present. And I've never been present when boats are going round it so I haven't seen which direction they take.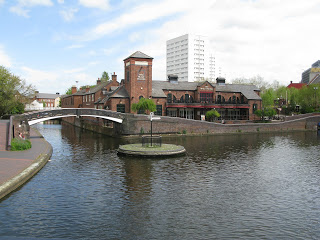 Birmingham's canals were built for commercial heavy-lifting during the Industrial Revolution and until fairly recently were woefully neglected. There are still large stretches which pass through industrial areas which can be pretty grim waste-strewn and graffiti-heavy thoroughfares. In contrast, around the City Centre there have been lots of developments of waterside apartments and cafés and nightspots using the canals as an attraction. You have to understand Birmingham is one of the few cities in the world not sited on  a major river so water has a special attraction for the city's inhabitants and visitors. We even have a waterbus which plies the short distance from the Mailbox (an upmarket shopping mall) to the NIA (National Indoor Arena – a major indoor sports and event venue). It's mainly used by tourists: locals find it quicker and cheaper to walk.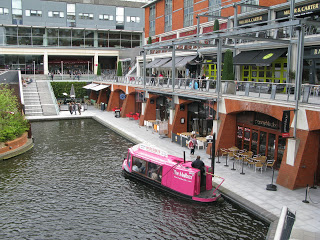 It makes a strange journey to cross the city via its canals, avoiding the traffic and not being aware of the usual landmarks. All your usual mental landscape of knowing where you are evaporates and you look at the city in a new way. On the subject of avoiding traffic, the canal towpaths make excellent cycle routes and are used regularly by the city's cyclists.
If you visit Birmingham, take half an hour to descend from its streets to wander along its canals – you'll come away with a  much better impression of the city – not comparable perhaps to Venice, but better than when you arrived.