It has been amazing to see the level of activity for the fifth OpenStreetMap UK quarterly project – schools. So far nearly 300 schools have been mapped or improved by 22 people. The Kirkcaldy postal area – KY – leads the way with over 30 schools mapped.

At just 10 days in, the community of mappers have:
created a number of amazing tools to help identify missing or incorrectly mapped schools;
agreed on new tags to allow us to reference the English Edubase and Scottish Executive Education Department data; and
made massive progress on mapping.
So which area is leading the rest? Based on Robert W's comparison tool, here are the top 10 most improved postal areas. This is measured by the increase in OpenStreetMap objects that "match" the government data between 2016-01-05 and 2016-01-10. Other measures are of course possible and may show a different picture.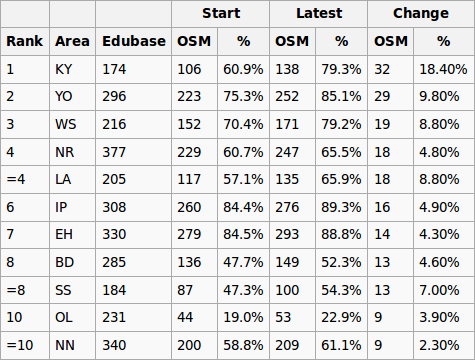 Well done to the Kirkcaldy postcode area, KY, for heading up our leadership board. Great work!
There is still plenty of time to get involved with adding schools to OpenStreetMap, the worlds largest crowd-sourced and most up to date map. A list of useful resources can be found here. Not sure how to map? No worries. Check out our tutorials, get in contact with us, or if you are in the West Midlands why not pop along to our next social and find out how.