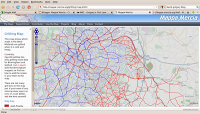 With the cold weather continuing its been difficult to get out and do the normal level of new mapping so we decided at one of the monthly social meets to do a bit of work that didn't require much outdoor mapping. Gritting Routes. Birmingham City Council like many other local authorities publish their winter road management plans, including those routes which are strategically important and therefore should be kept clear of snow and ice in the winter. These gritting routes have been added to the OpenStreetMap.org database and a new overlay created from this to add a gritting map to mappa-mercia.org. Solihull has since been added and we are hopeful to add the other West Midlands LA's data soon too.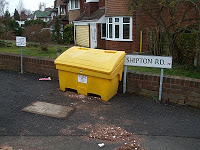 The work hasn't stopped at gritting routes. The location of grit bins, placed by LA's at vulnerable locations such as steep hills and schools, especially on roads which are not routinely gritted, needs to be located or verified on the ground. We've started to add some to the database and now show on the gritting map when you zoom in and more will appear as they are found and verified. If you have a grit bin on your street why not add it yourself or tells where it is and we will add it for you.
All of this has produced some good publicity for the mappa-mercia project. Birmingham has now added a link to our gritting map from its website and to top it all last week we got a short interview aired on the BBC evening news program Midlands Today plus a post on BBC West Midlands Science and Environment correspondent David Gregory's blog
Great work to all those who have contributed.