Scattered around the West Midlands at bus interchanges are numerous sculptures, commissioned by the transport authority, Centro. They were commisioned and erected in the early optimistic years of the current century. They are quite striking and try to reflect the history and local culture of the community which use the bus interchanges.  Bus interchange sounds a grand title, but on the ground they're mostly collections of bus stops, where you need to change bus routes.
Not every bus interchange has a sculpture and I don't know what the criteria were for choosing them. I guess the money ran out before completion.
Centro no longer exists, having changed its name to Transport for West Midlands, upon the creation of the new tier of local government, the West Midlands Combined Authority.
I decided to make a separate map of these artworks, even though they can be found in the West Midlands Heritage map, where they are just another artwork amongst hundreds of others. They are a unique collection of public artwork and are regularly photographed for wikimedia,flikr and the like. So if you see these photos and wonder where the artworks are, there's no map to find them. So a dedicated map seemed the best solution.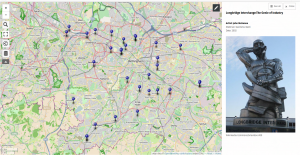 I use umap to create the map and found it incredibly easy, and  I will certainy be creating more maps with umap. It took at least ten times longer to ensure the data was correct.