20 September saw the re-opening of Birmingham's New Street Station after 5 years of redevelopment costing £750m. The  project involved the demolition of Stephenson Tower, a residential tower block; and the removal of 6,000 tonnes of concrete in order to increase the station's capacity; whilst keeping the station undernaeath operational. A new shopping mall, Grand Central, was also constucted on top of the station, with John Lewis as the flagship tenant. Grand Central is due to open 24 September. A new metro line from Snow Hill station to New Street station is also underway and scheduled to open at the end of October.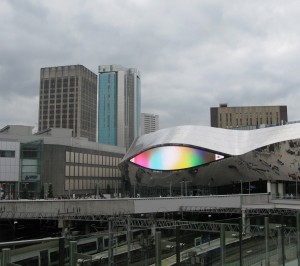 170,000 passengers a day use Birmingham New Street, nearly triple the 60,000 a day it was designed for when it was last rebuilt in the 1960s
The new station can now handle 300,000 passengers per day
New Street is the busiest station outside London, with a train leaving every 37 seconds
36 new escalators and 15 lifts, serving every platform, have been installed
About 60% of rainwater "harvested" from the new-look building's facade will be used to flush the station's toilets
About 1,000 workers were on site, 24 hours a day, seven days a week during the five-year revamp – increasing to 3,500 in its final months
Source: Network Rail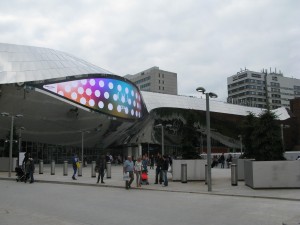 Needless to say OpenStreetMap was there on opening day and our map is now updated to show the new layout as far as pedestrian entrances and approaches is concerned. But there's lots more to do yet. And the contractors (as always) haven't quite finished so some detail can't be mapped yet.
New Street station has a complex layout which will challenge us in representing its multiple layers.
Starting from the bottom layer we have
1.railway lines and platforms
2.Station concourse
(multiple lifts,stairs and escalators joining 1 and 2 above)
3.Shopping mall
(multiple lifts,stairs and escalators joining 2 and 3 above)
4. Car Park
In addition there is a 10 storey office block on part of the building and the North and South entrances are at different levels.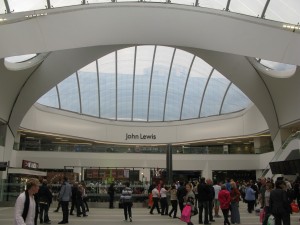 So we need to do some head scratching and planning to get it right: so PLEASE can  non-local mappers  offer your advice  and not just enthusiastically start adding multiple POIs and footways otherwise we'll end up with an undecipherable jumble.
There'll be a discussion thread up soon on talkgb where contributions can be planned. Help from public transport, railway and 3D mappers will be greatly appreciated.